CARLSBAD, Calif. (April 10, 2022) – Scottie Scheffler's remarkable run of golf continued Sunday as he claimed his first major championship winning The Masters by three strokes finishing 10-under par. Scheffler's win comes amongst a magical stretch where he has won four tournaments in his last six starts.
The World No. 1 held the lead from the second round through the final round winning with scores of 69-67-71-71. Scheffler made two birdies on his first nine Sunday making the turn in 34 before holding strong on the second nine to secure the Green Jacket. The win marks Scheffler's fourth this season with his Stealth Plus 9.0° Carbonwood driver and P·7TW irons and his second with his Stealth 16.5° high launch 3-wood.
With Scheffler at the top of the leaderboard, Team TaylorMade finished with three players in the top five with Rory McIlroy finishing second (-7) and Collin Morikawa (-4) coming in fifth.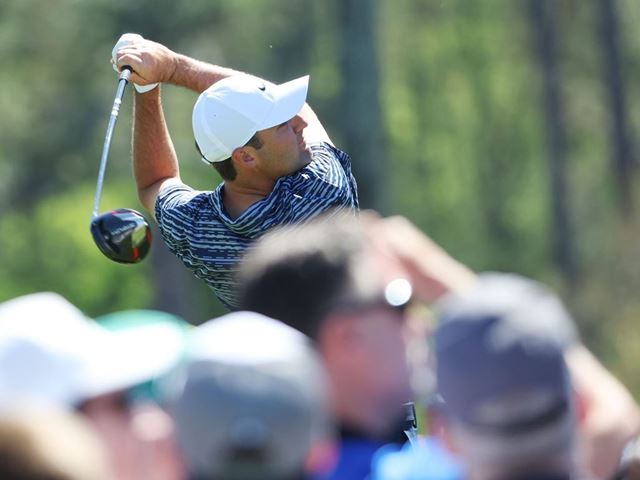 © Getty Images
NEED TO KNOW
Scheffler signed a multi-year deal March 9 to join Team TaylorMade, playing the company's Stealth Plus driver, Stealth 3-wood and P·7TW irons.
Sunday's win by Scheffler marks the seventh win on the PGA TOUR by a player with Stealth Plus driver in the bag and the ninth on all men's and women's professional tours in 2022.
Scheffler has won four times in 2022, coming in a six-start span: WM Phoenix Open, Arnold Palmer Invitational, WGC-Dell Technologies Match Play and The Masters – this stretch run beginning Feb. 13 vaulted Scheffler to the World No. 1 ranking.
Scheffler is the first player to win The Masters and have 4 wins in the same PGA TOUR season since Arnold Palmer in 1960.
He entered Augusta with six straight top-20 finishes in major championships, and leaves making it seven straight with a cumulative score to par of 36-under in the majors. That's the best of any player since 2020.
Scheffler is also one of just three players averaging 4 birdies or more per round in majors since the beginning of 2018 (Morikawa is one of the other two).
Including his four wins, Scheffler has a total of eight Top-10 or better finishes in the 2021-2022 in a total of just 14 starts.
At age 25, Scheffler became the sixth player to reach World No. 1 before age 26 joining Tiger Woods, Jordan Spieth, Rory McIlroy, Justin Thomas and Jon Rahm.
Scheffler was the first American golfer to reach World No. 1 before winning his first major since 1999.
SCOTTIE SCHEFFLER WITB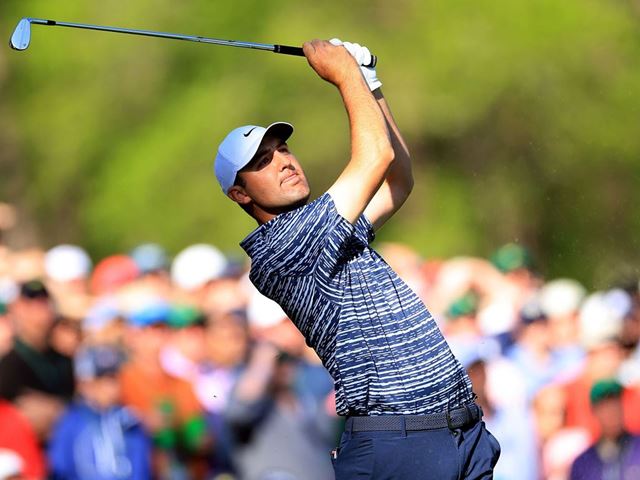 © Getty Images
Stealth Plus; 8.0° Driver (Ventus Black 7X)
Stealth 3HL; 16.5° 3-wood (Ventus Black 8X)
P·7TW Irons; 5-PW (True Temper Dynamic Gold Tour Issue X100)
TaylorMade Season Opener Staff Bag
INSIDE THE WINNING FIT
During practice rounds in Augusta, Scottie made slight alterations to his driver to allow him to better move the ball from right to left – as the course famously benefits the draw (for right-handed players). Scheffler and TaylorMade tour reps adjusted the sliding weight on his Stealth Plus driver just slightly more towards the heel.
As for the original fit, Scheffler began testing his Stealth Plus driver at a preseason driver fitting session in Texas with TaylorMade Tour Representatives. With his current Stealth Plus 8.0°, Scheffler saw average ball speed gains of 3.4 MPH (177.4 MPH with Stealth Plus vs 174.0 with previous gamer) and carry gains of just over 11 yards in testing (305.8 with Stealth Plus vs 294.7 with previous gamer). After being dialed in to the right spec, he was able to continuously hit the desired shot shapes and shot types with the 60X Carbon Twist Face™ driver.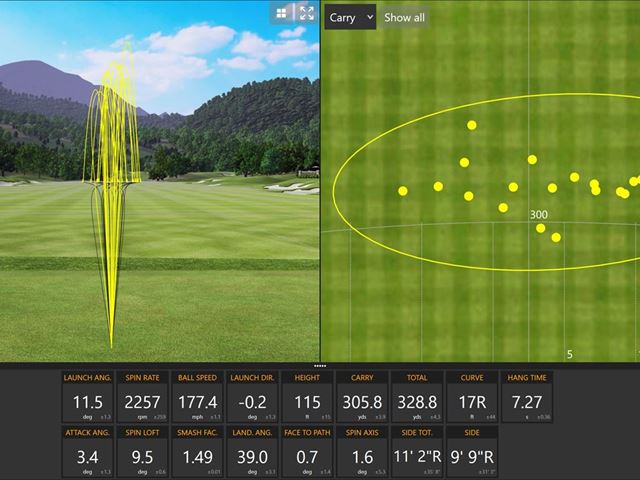 Scottie Scheffler Stealth Plus Driver Testing Averages
He hasn't looked back since putting Stealth Plus in play at the American Express in January and has seen an average increase of 4+ MPH ball speedin tournament competition compared to his 2020-21 season average.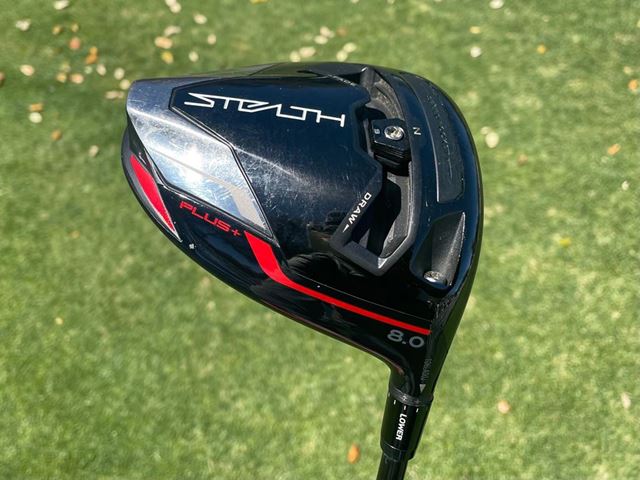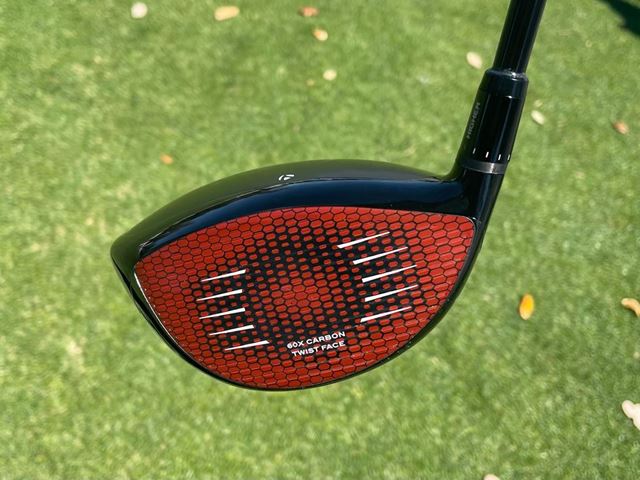 "You're talking about fitting one of the best drivers of the golf ball in the world and during our initial driver fitting, we were working on the range into a pretty substantial wind. He was delivering some amazingly consistent golf shots, despite those conditions. Because of the launch characteristics of the Stealth Plushead, we were able to get him into at least half a degree more loft than he's traditionally played, which means that he's not only gaining speed but the loft is helping with forgiveness and shot shaping."
Adrian Rietveld, TaylorMade Senior Tour Manager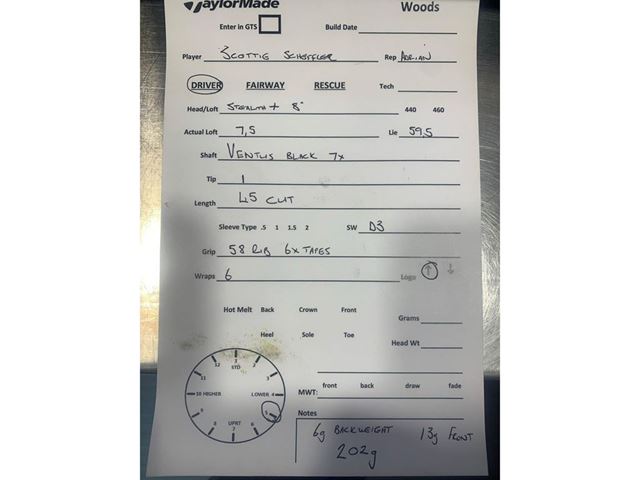 The latest TaylorMade add to Scheffler's bag came in Austin at the WGC-Dell Technologies Match Play as he added his Stealth 3HL 3-wood to the bag on Wednesday after weeks of extensive testing. TaylorMade reps worked with Scheffler to identify the Stealth fairway model that would best match the launch characteristics of his previous gamer, which had a loft of 12.5°. In order to match those characteristics, TaylorMade reps build a Stealth 3HL with a finishing loft of 15° and a Ventus 8X shaft cut down an inch shorter.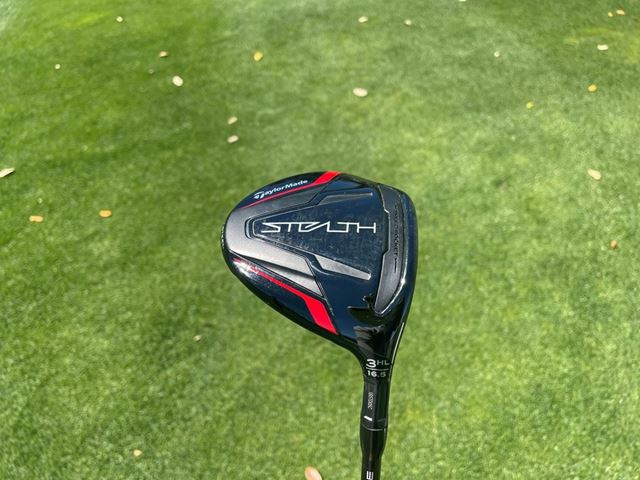 "After testing the Stealth 15.0° head in the preseason, which was simply going too far for the types of shots Scottie was trying to hit, in Palm Springs at The American Express we built him a Stealth 3HL 16.5° head with a Ventus 8X shaft. His previous 3-Wood was about 12.5° of loft and in order to match launch conditions and distance with Stealth, we had to go to the Stealth 3HL, make it an inch shorter and finish the loft at 16°. We were really close with matching launch conditions, which was important to Scottie. It was coming out of a different window because of the difference in loft in the heads and he has since been able to figure out how to flight it the way he wants to."
Todd Chew, TaylorMade Senior Tour Manager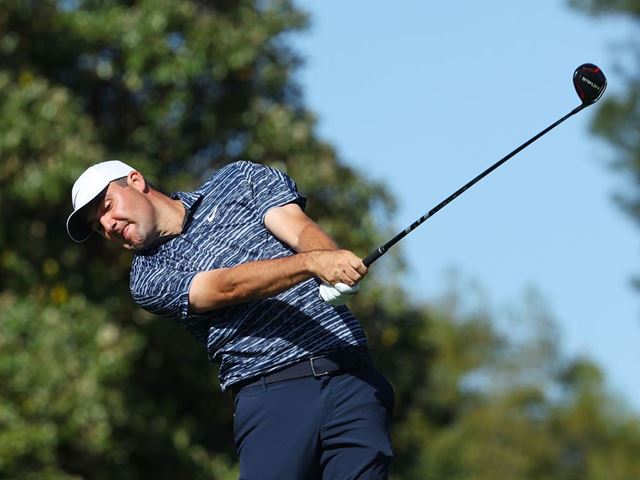 © Getty Images
The 16.5° Stealth 3HL head is more of a weapon for Scheffler because of the distance and height capability he can get when he wants it. That is the benefit of taking a lot of the spin out of the head and being able to use more loft compared to older technology. With the previous club, higher launch would mean too much spin. However, with the advanced technology TaylorMade's R&D team was able to deploy into the Stealth fairways that takes so much spin out of the club, Scottie can use more loft to make the club more playable and versatile.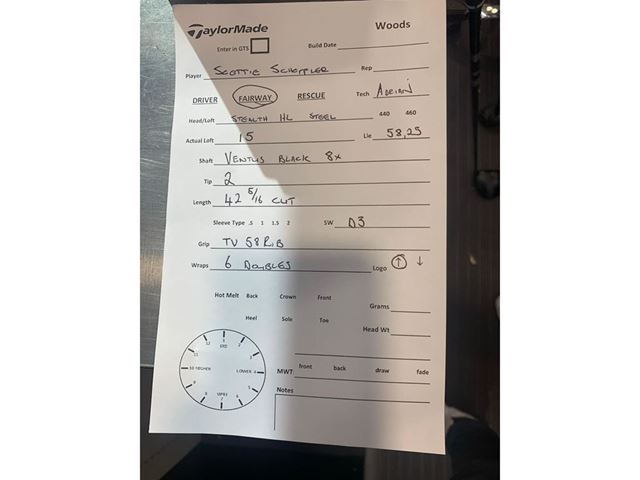 Scottie Scheffler Stealth 3-Wood Set Up
Scheffler has had the P·7TW irons in the bag since the 2021 American Express, while previously playing TaylorMade's P·730 irons. After seeing the P·7TWs being played by many of his competitors, Scheffler expressed interest in late 2020 about playing the irons to be able to hit more types of shots with the capability the Tiger Woods inspired irons possess. Since putting them in the bag, Scheffler has 12 Top 10s, three PGA TOUR wins and a Ryder Cup.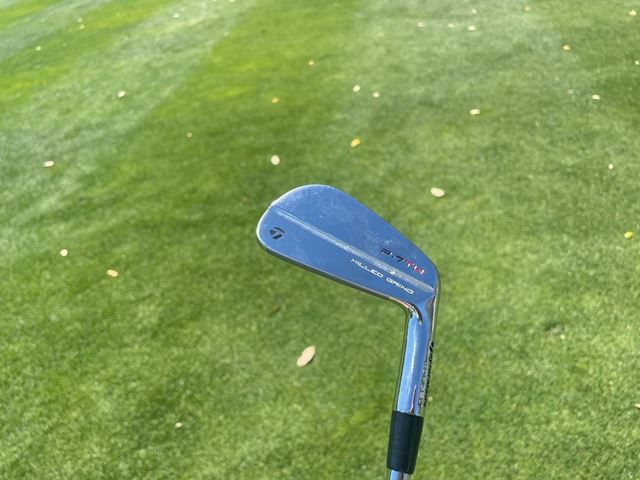 "Scottie is such a good iron player and he tested the Tiger irons by himself with his coach and then we made adjustments and he was good to go and he's never looked back since. The sole geometry of the blade is very important in the delivery of the club. Tiger's design is similar to what a lot of pros including Scottie played growing up. With the soles being a precision production milled grind, we have the ability to make the sole identical club after club after club because of the process we follow."
Adrian Rietveld, TaylorMade Senior Tour Manager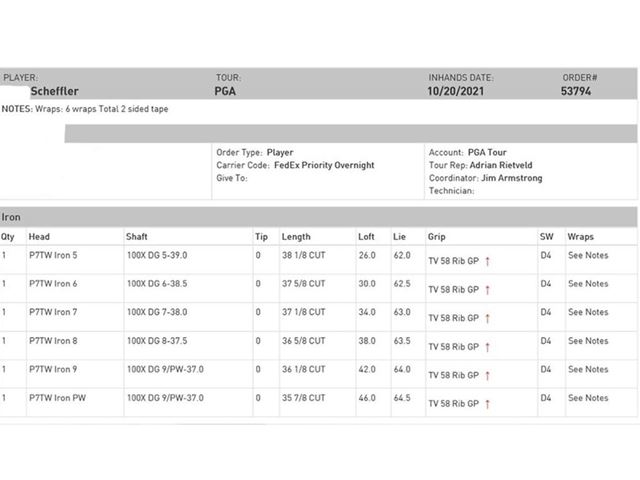 Scottie Scheffler P·7TW Irons Spec Sheet