'Tis the season! It's that time of the year again when we are getting set to "deck the halls", hang stockings, and start our holiday shopping. Unless you're me, then you start promptly on December 23rd even though you swear that next year will be different. It never is.
Throughout the golf season, I have the pleasure with working with several golf public relations firms. While I don't have the chance to try everything that I receive press releases for every year, I appreciate all of the support that I receive from individuals like Tracy Nackel of TEN Marketing and PR.
Ms. Nackel represents several golf companies like SkyCaddie, Bloodline Golf, and Dragonfly Golf. Here are a few gift ideas for you (you've been a good little boy or girl this year) or the golfer in your life.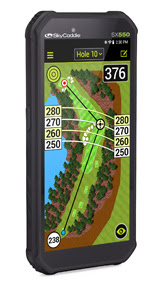 SkyCaddie® SX550 – $399.95The new SkyCaddie SX550 gives golfers the same powerful features as the original award-winning SX500 with a lighter, slimmer body. The impressive features are easily tapped with a 5.5″ intuitive touch screen. The large HD display combined with HD quality course graphics, provide the best view of the most reliable information in the game. Skygolf.com

Holiday Promotion: $50 discount – SkyGolf® is offering a special Holiday Promotion of $50 off the SkyCaddie SX550 and award-winning SX400 rangefinders and the LX5 and LX5 with ceramic bezel smart watches. The promotion ends December 31, 2021.
Bloodline Golf Vale Putter – $299.00The Bloodline Vale putter features an ultralight shaft along with an ultralight grip that creates a patent protected ultra-low balance point which allows the putter to stand alone on the green. You can set the putter down, look directly down the line of the putt, line up the putter face and hit the putt on its intended line every time. Bloodline.golf

Holiday Promotion: $75 discount Bloodline Golf is offering a special Holiday Promotion of $75 off the Bloodline Vale stand up putter. Enter vale75 at checkout to receive the discount.
Dragonfly Golf Player Package – $4,999.00 – 3D golf analysis is now mobile, accessible, and affordable. The Dragonfly Golf system is the world's most advanced smart suit with interactive player and coaching apps. Together, they measure the precise detail of a golfer's swing and deliver real-time feedback via a customized 3D avatar and metrics. You and your coach can have a 360-degree view of your swing. Anytime. Anywhere. DragonflyGolf. guidedknowledge.com
Until The Next Tee!!
#fightandgrind #seeuonthenexttee